Summer rhymes with cocooning and time spent with loved ones outside (while abiding with ongoing COVID regulations, of course!), on the deck with a few steaks on the grill, a couple cold ones, some music, and perhaps a few dips in the pool... In order to enjoy your time outside as much as possible, we have prepared a simple, yet useful guide on ways to restore your wood deck, patio, gazebo, balcony, siding or any other exterior surface. We'll begin with surface cleaning and preparation, and we'll follow with finishing. If you have a new, bare wood structure, you can go straight to the section on finishing.
Getting rid of the previous finish
Most exterior wood surfaces are finished with either oil or water based stains, and some are simply left with no finish whatsoever. Before giving a new look to these spaces, one first needs to either remove the previous finish or clean and brighten unfinished wood, since it will have darkened over time, due to exposure to UV rays and elements.
Removing paint from a deck
If your patio or wooden deck has been painted in the past, the ideal solution is to sand all painted surfaces, usually with 80 grit paper. However, if there are several coats of paint on the wood, it will be easier to sand with a coarser grain initially, such as 40 or 60, to get through the paint more effectively.
Some guides or videos will suggest removing the paint using a high pressure cleaner, but the results may vary and caution should be taken as the goal is to strip the paint without damaging the wood grain. If the pressure is too high, beyond 2500 psi, you risk damaging your wood. If the pressure is too low, around 1200-1800 psi, it will be difficult to get the job done. Ideally, your pressure washer should be able to output between 2000 and 2500 psi and will have a 15 or 25 degree tip. A 40 degree tip is usually too wide to do a good job, while a 0 degree tip will quickly damage the wood and give you a lot of trouble when you get to the finishing stage as it will be uneven. You have been warned! In short, if you are not comfortable with the idea of ​​potentially damaging the wood of your patio or terrace, it is preferable to seek professional help or go the good old way by sanding, which will take more time, but will avoid any nasty surprise! Some high pressure washer manufacturers now offer accessories designed specifically for cleaning wooden surfaces. We offer very general instructions here, but we do recommend that you confirm the procedure to be followed with your retailer or the manufacturer of your device, or at least to carry out tests on an inconspicuous surface before proceeding to avoid problems.
Getting rid of water or oil based stain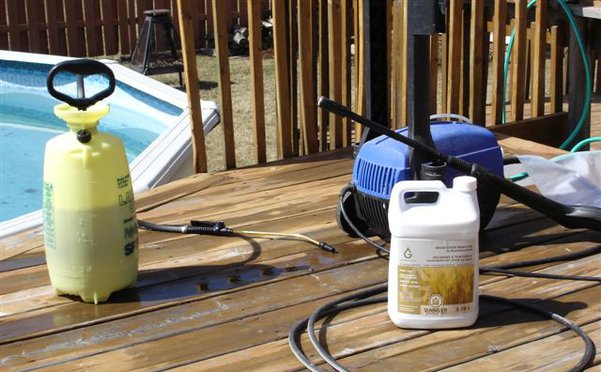 To remove a oil or water based stain from an exterior wood surface, it is necessary to use a wood stain remover designed for outdoor use. Exterior removers are usually water based and biodegradable, in order to have as little impact as possible on the surrounding vegetation and environment.
We recommend using Finico stain remover, a very efficient Canadian product, but many alternatives in hardware stores will also provide good results. Just make sure that the product is specifically formulated for outdoor use, and take a few minutes to carefully read the manufacturer's instructions before starting your project, since these products have varying degrees of concentration and sometimes need to be diluted with water before using them. It is also recommended to either spray water on the surrounding vegetation or cover it with a tarp before use in order to avoid damaging your precious plants! Finally, make sure to protect your eyes and hands with safety glasses and gloves before you begin.
Once you're ready, simply apply the product on the surface, either with a garden sprayer, a brush or some rags. Then wait about 15 minutes (but make sure to carefully read the instructions on the container, as some may vary), and clean and rinse the surface with a high pressure washer or a brush with a garden hose, although, in the former case, make sure the pressure is not to high to avoid damaging the wood surface (see above).
Cleaning and brightening untreated wood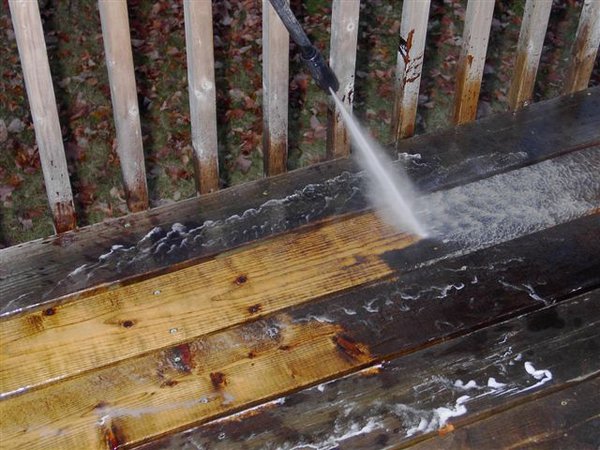 Wood's worst enemy outside is the sun and its UV rays, pollen, microorganisms and acid rains which will make wood darken over time. Consequently, a wood surface built with untreated wood, without any finish, will gradually lose its original color and the wood will turn grayish or brownish over months and years. This is why the most efficient exterior wood finishing products are colored: Coloring pigments act as a UV protection and prevent wood from changing color over time.
There are two quick and simple ways to clean wood and to bring it back to its original color: The first is the easiest and involves a high pressure washer, and the second involves good old elbow grease.
Cleaning and brightening wood with a high pressure washer.
A quick and easy way to clean and brighten wood is to use a high pressure washer. However, you'll need to be careful and make sure that the water pressure is not too high, since it could damage the wood and raise the wood fiber. Try to clean the surface as evenly as possible. Some high pressure washer manufacturers have recently started offering accessories especially designed to clean wood surfaces, and offer guides on their website. We strongly recommend to follow the instructions provided by the manufacturer of your specific device, or at least proceed with a few tests on inconspicuous surfaces before going ahead. If you are not totally comfortable with this method, we suggest using a wood cleaner and brightener by following the guide below.
Using a Wood Cleaner and Brightener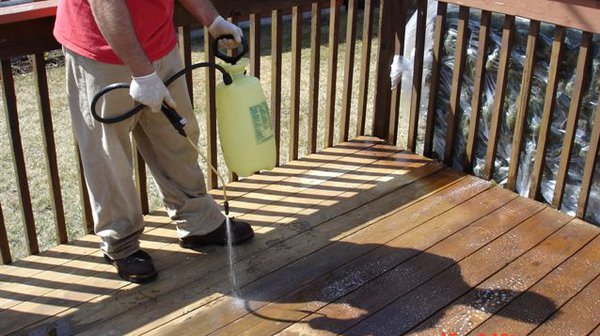 For those who don't have access to a high pressure washer, a wood cleaner and brightener can be used, an alternative solution which will take a little more time, but will be as efficient as using a high pressure washer. An added benefit is that you don't risk damaging the wood using this method, as compared with the high pressure washer. Again, you'll find plenty of products to do the job, but we do recommend using Finico Wood Cleaner and Brightener, a very good water based cleaner which contains oxalic acid, the best bleaching agent for wood. It is entirely biodegradable and has a very low toxicity level. Another option is pure oxalic acid, which will also yield very good results.
No matter which product you'll use, make sure that you properly read the manufacturer's instructions to make sure you use the proper water dilution. Also make sure to wear protective gloves and glasses, and to spray water on the nearby vegetation before you begin. Once you're ready, simply apply the product with a garden sprayer, a rag or a brush. After 10-15 minutes, scrub the surface with a scrubbing brush and rinse the surface. You're done!
That's it! You're now ready to proceed to the next step: Finishing!
Finishing
Your patio, veranda or deck is on new, bare wood, or you've just cleaned it? You're ready to begin! Note, however, that there are some basic rules in the finishing world, and you'd better familiarize yourself with them before you evaluate your options and make your purchases.
Three ground rules, your best bet against nasty surprises!
Most exterior finishing products for wood require light sanding before you can apply them. This is done in order to open the wood grain, which allows for a better product adherence or penetration. Sanding for surface preparation is usually done with 60 to 80 grit sandpaper, but always rely on the instructions specific to your product!

Furthermore, in many cases, the moisture content of the wood must be taken into account, depending on the type of product being used and the type of wood to be treated. If your project was done with treated wood, you'll usually have to wait at least 8 weeks before finishing, as this type of wood is too wet when purchased. People will often wait until the next year and the return of the spring or summer following construction before proceeding with the finishing, so that the humidity of the wood will be around 15% or less. In the case of untreated cedar and hemlock, you'll need to wait a minimum of 4 to 6 weeks after construction is completed before you can go ahead with the finishing, as to reach a humidity level of also around 15% as well. If in doubt, contact the wood manufacturer, or use a digital moisture meter.

No matter the moisture content, it might be wise to wait until next year to finish a surface built with treated wood, since the chemicals used to preserve it might react with some finishing products during the first year.
These three ground rules demonstrate the importance of thoroughly reading the instructions of the product you're planning to use before you begin (and ideally, before you purchase it!), and not once the project is completed and you've started noticing that something might have gone wrong... Be absolutely certain: the few minutes you'll spend reading the instructions can avoid several hours of frustration, costs, additional work, notwithstanding the many "Told ya!", and the collateral damages to your ego...
Choosing your exterior finish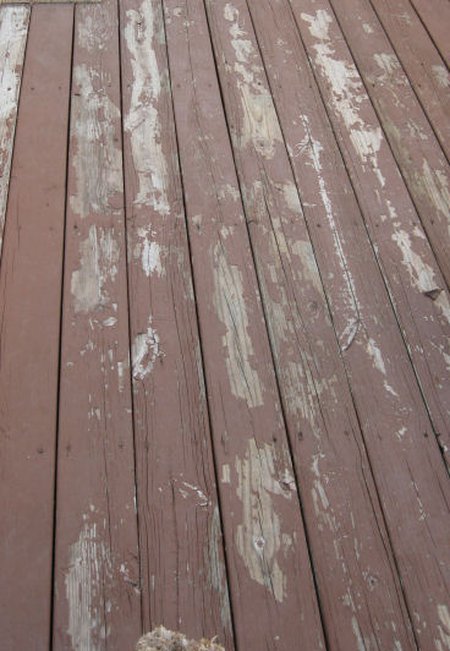 You'll find dozens and dozens of exterior wood finishing products in every hardware store. Most of them have a low price and are easy to use. But what about the aesthetics and durability? Read down below to learn a few tips to guide your purchases.
Avoid clear exterior products as much as possible, as with a very few (and quite expensive) exceptions, they usually do not offer UV protection, which will then cause your wood to quickly darken. You will then have to start all over again come next season. Pigments contained in exterior finishing products are the components that provide UV protection to wood and will therefore prevent it from darkening. So avoid linseed or tung oil outdoors: They are strongly discouraged. If you want to maintain the natural color of your wood, opt for a penetrating product offering a color that closely matches your wood, but note that a slight change is inevitable: the end result will often be a little darker and will have a wet wood look. Few customers complain about this result, but it's better to know what to expect beforehand.

Water based acrylic stains are a very popular and economical choice, and you can find them under all major brands, such as Sico, Benjamin Moore, Behr, Flood, etc. However, these products don't penetrate the wood: They form a film on the wood surface, which can then peel and/or flake. They also mask the wood grain instead of enhancing it, which is just really sad! If you're on a budget, it's still better to use this kind of product than leaving your deck on bare wood. But be warned that you might have to strip/clean everything in a year or two, and start from scratch.

Products that usually offer the best bang for the buck in terms of aesthetics, durability and maintenance costs/time are definitely penetrating products: Either traditional finishing oils (with solvents), oil and water emulsions or concentrated treatments to be diluted with water. These three options all have some pros and cons, but we hope that what follows below will help you determine the product that is best suited for your project.
What are penetrating products?
Because they penetrate through the wood fibers, oils, water and oil emulsions or concentrated treatments don't create a film on the wood surface. These products simply cannot peel or flake, as opposed to water based acrylic stains, and consequently, care and maintenance is much easier. Another benefit of penetrating products is that they protect the wood from within, and allow to enhance the wood grain instead of masking it. Furthermore, their durability is usually longer than cheaper acrylic stains, and maintenance usually implies a light sanding and a new coat. No stripping, no bleaching, no starting from scratch. In the end, some penetrating products might have a steeper price, but their longer durability, their easy maintenance, and their unbeatable, rich appearance should be taken into consideration when considering your options.
Traditional vegetable based finishing oils with solvents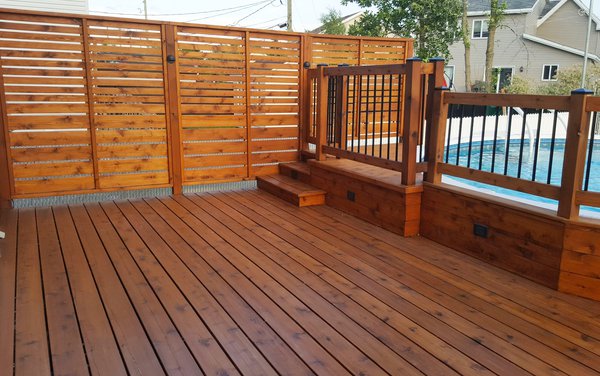 Photo credit: Rina Bevilacqua
Traditional exterior finishing oils such as Pareo, by Prato-Verde, Osmo Decking-Oil (also available in anti-slip version or Vermeister's Deck.Oil Oil, have a high concentration of natural resins, making them products that provide a sophisticated yet durable finish for exterior wood. The wide variety of available colors will provide a rich finish to the wood, while enhancing the natural look of the grain. This results in a beautiful depth effect and a satin mat luster. Each of these oils have a very high covering power, require the application of 2 coats and will last between 1 and 3 years on horizontal surfaces and 2 to 6 years on vertical surfaces, depending on the stress and the conditions of exposure to the elements.
Maintenance will generally be limited to cleaning the surface with a garden hose and brush and then reapplying a coat to vertical surfaces, although Vermeister offers a maintenance product which will extend the life of the oiled exterior surfaces. On horizontal surfaces that will have been more affected by your family and guests, rain and other elements, it will be necessary to carry out a light sanding beforehand. Rest assured: No stripping in sight! In terms of aesthetics, exterior wood oils are hard to beat.
Why choose any other type of product, when traditional oils seem to offer a virtually unmatched finish, you will ask? The answer lies in the budget, the ease of application and the amount of VOCs emitted by these products. Indeed, if they offer finish quality that is extremely hard to beat in terms of aesthetics, these oils are generally more expensive than the alternatives, a little more difficult to apply than oil/water emulsions (we'll discuss this below), require a longer drying time. long, and contain a large amount of solvents to allow the oil to penetrate the wood fiber well. This results in a larger ecological footprint than the other options below. All these characteristics should be carefully considered depending on the size of your project, your wallet, and also based on your environmental concerns.
Finishing oils 2.0: Low VOC oil emulsions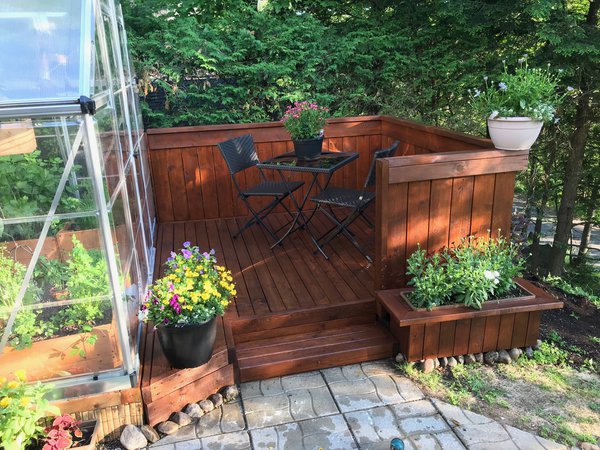 Photo credit: Prato-Verde
A very interesting alternative to conventional oils are oil emulsions, which are oils that have been treated with technologies allowing them to be soluble in water. Since water penetrates easily into wood, the mixture of oil, coloring pigments and water penetrates much more easily and deeply into the wood. The water then evaporates and the oil crystallizes deep in the wood fiber, generating only a very small amount of VOCs since these oils only require a tiny amount of solvents. These products also usually (but not always!) dry faster than traditional oils, which is a significant benefit for exterior applications, as two coats can usually be applied in the same day if the work schedule is well planned. Ideal for outwitting the whims of Mother Nature in areas where unexpected downpours can quickly ruin a project.
Two Canadian companies offer products with excellent value for money as well as a very low ecological footprint in this category: They are Pareo Zero from Prato-Verde, a Quebec based company, as well as Broda Pro-Tek-Tor DR, a water and oil emulsion from a well-established company in British Columbia. Both products are ahead of the competition by having a very low VOC content and a very durable finish.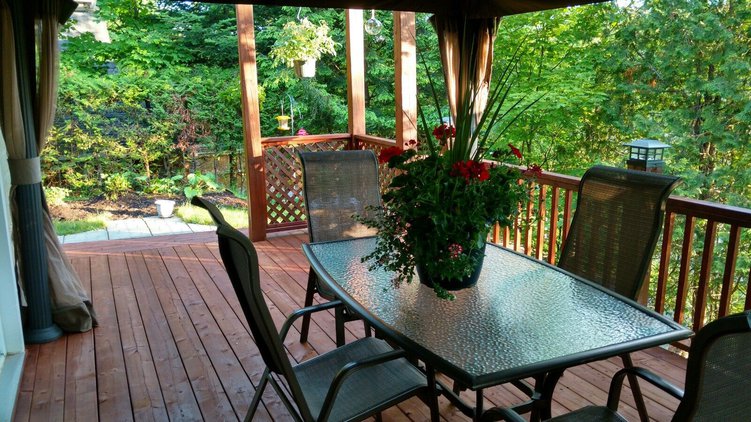 Photo credit: Broda
Oil emulsions penetrate deeper into the wood grain and therefore will mask it slightly more than traditional oils: they do not provide the depth and luster of the latter, although the difference may seem negligible to many. The covering power of emulsions is also less than traditional oils... except that in the end they are more affordable. In addition, Broda Pro-Tek-Tor DR stands out for its 32 color range and increased resistance: 2 to 4 years on horizontal surfaces, and 8 to 10 years on vertical surfaces.
Care and maintenance will be handled the same way as for surfaces finished with traditional oils with solvents (see above if necessary). In short, emulsions are very interesting, ecological and durable products, offered in a very wide choice of colors.
Note that oil emulsions are less suitable for outdoor furniture made from teak and other hard exotic woods, because their high water content will make the wood fiber raise and slightly swell, ending in a rough surface which will require sanding and providing a finish much less spectacular than a finish with a traditional oil with solvents or specialized marine varnishes such as those offered by Epifanes.
Treatment for life (Yes, really!)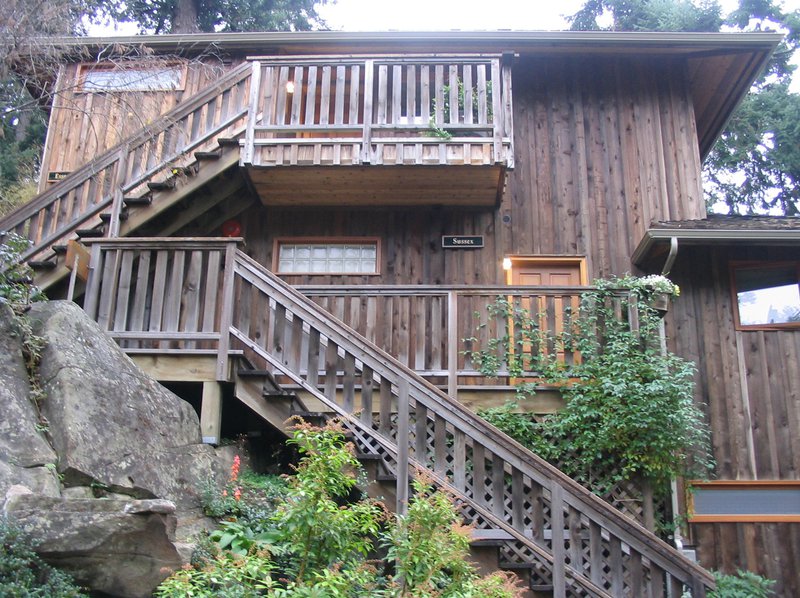 Photo credit: LifeTime
The third product category we suggest you consider is totally different from what we've seen so far, and is in fact, unique: It is cheap, it's the most eco-friendly product type on the market, it's also the easiest to apply, and it needs absolutely no maintenance at all...for a lifetime! It will appeal to those who want to avoid spending time caring about their wood surfaces, but are still looking for an interesting look. LifeTime Wood Treatment and Instant Barn Wood can be purchased in powder form, which is then mixed with water. Then, it is applied on wood (or the wood can also be soaked in the mix), and that's it! Instant Barn Wood has the particularity of including a booster, which makes it possible to gray wood that is more difficult to color and to enhance the shade of gray if you are looking for a more pronounced effect.
These products, made from mineral and plant extracts of natural origin, will cause the wood to turn gray more quickly and give them a magnificent silver or brown appearance, depending on the species of wood used. LifeTime and Instant Barn Wood contain natural fungicidal and insecticidal agents that will protect the wood throughout its life. LifeTime reacts thanks to exposure to rain and sunlight, and will turn your wood gray/brown over a long period of time (a few months). Instant Barn Wood, however, does not require exposure to the elements, and will color your wood almost instantly. For this reason, it can also be used for indoors for furniture, walls, etc.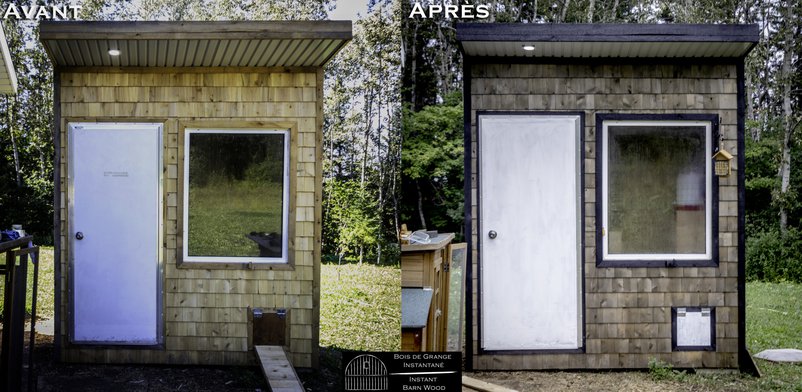 Photo credit: Instant Barn Wood
Care and maintenance? None, for as long as your wood stands. (This is why one of the products is called LifeTime). Simply clean the surface with a garden hose and a brush once a year, as you would with any exterior surface. Finally, these wood treatments do not require any prior sanding, and can be applied immediately to treated wood or to damp wood as soon as the first year, as opposed to penetrating products.
Do you have questions or comments related to the products or methods discussed in this article? Visit our Technical Support Forum or contact us