Flour Paint...ring any bells? Also known as "swedish paint", "wheat paint", "ochre paint", it is an ecological and resilient paint for vertical wood surfaces, made from simple ingredients, which can be easily prepared at home, while offering an excellent quality/price ratio.
Flour Paint, really?
Really! In fact, all paints are prepared according to a simple basic recipe: They are made from pigments (for the color), binders (to bind all the ingredients together), solvents or thinners (to dilute and make the paint easier to apply), and additives (to add specific properties to the paint, such as quicker drying, or protection against mold, etc.).
Flour Paint, made from water, soap, linseed oil, pigments, iron sulfate (a common food additive), and flour (you might've guessed!), provides beautiful results, requires little care, will last between 8 and 10 years, all for a fraction of the price of industrial paint: around 30$ per gallon (3.78 Liters). Interested yet? Keep on reading!
An age-old recipe
The Flour Paint recipe has its origins in Sweden, which is why it is sometimes (wrongfully) called "Swedish Paint", since that paint has a particular component: Falu red, the red distinctive pigment used in Swedish Paint originating from mine tailings from the Great Copper Mountain of Falun, in Sweden. The high copper, zinc and lead content of Falu red makes Swedish Paint very durable, antifungal, bactericidal...but also toxic!
Flour Paint, however, is colored with natural earth pigments, such as ochre, replacing Falu red. This explains why it's also commonly called "Ochre Paint". It's important to note that this paint can also be colored by using other pigment types, such as iron oxides and other pigments, in order to have a wider color choice than earth pigments offer, which are mostly available in yellows, browns and reds, as shown below.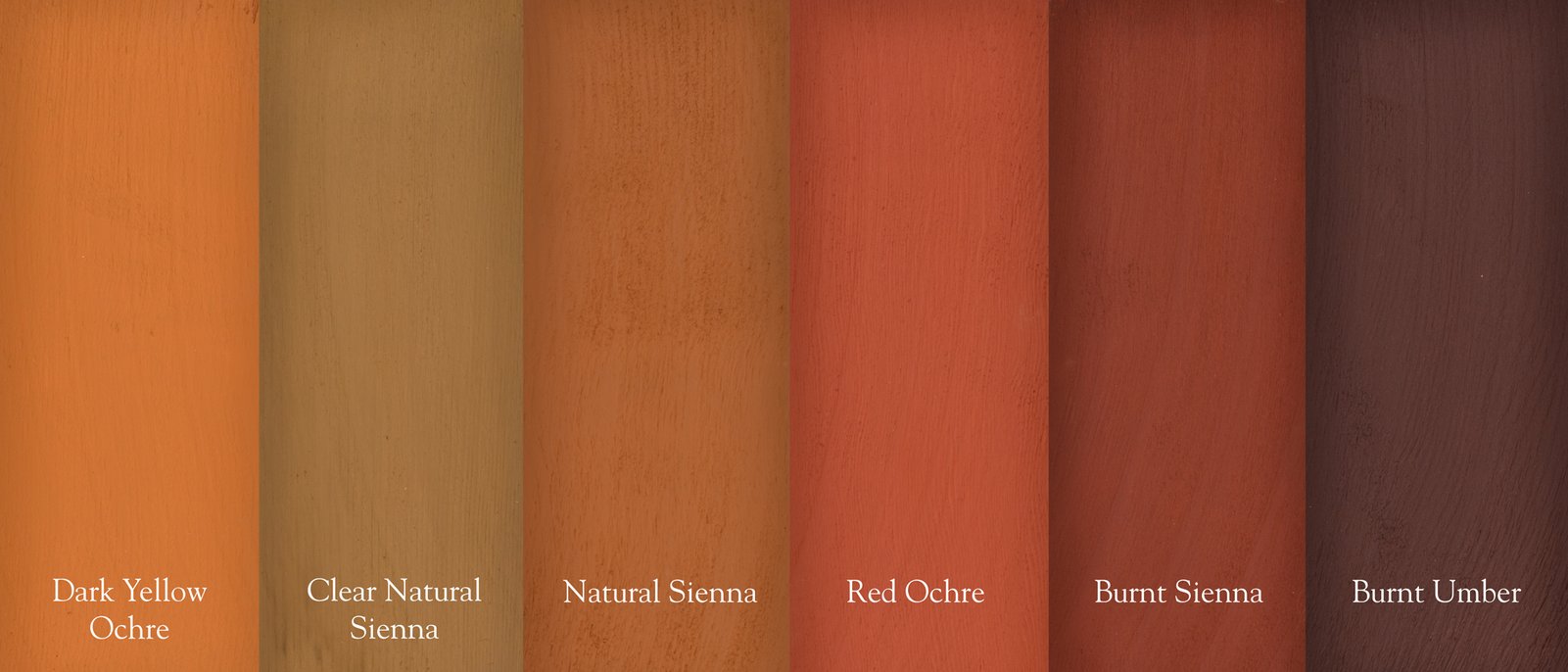 Back to the roots
Forgotten in the early 60's, as industrial paint took over, the recent rediscovery of Flour Paint generated a certain buzz in Europe. Easy to understand considering its historical value, easy preparation, affordability, non-toxicity and resilience! However, due credit must be given to the Association Terre et Couleur, a French, non-profit organization, which has been promoting the use of ochre and other earth colors through many community projects throughout France since 1995. The association also authored a few illustrated booklets on the topic (available in French only), which help finance its activities.
Why use Flour Paint?
On our side of the Atlantic Ocean, people are increasingly discovering this cheap homemade paint which gives a rustic, matt look to external, wooden walls. Many appreciate it for its non-toxicity, especially those who have health and environmental concerns regarding the use of industrial paints. Cheaper than its industrial alternative, Flour paint is trusted and proven, does not contain any of the nocive ingredients present in industrial paints, and does not emit any VOCs. The clip below should convince you of its harmlessness: Workers temporarily color the river by cleaning their trays and equipments, as happy children dip in.
Flour Paint is also a great alternative to ecological paints that are now available commercially, but which often have prohibitive prices. When it is colored with ochre, it will be very efficient in protecting wooden exterior walls: Ochre being a very opaque pigment, it offers a strong protection against UV radiation, which is responsible for graying wood. Painted surfaces do not require any special care, and can easily be cleaned with soapy water. To refresh the look with an additional coat, no need to sand or strip: Just clean and paint directly.
However, Flour Paint requires a preparation and needs to be cooked, a process which takes approximately an hour, but is quite simple. Flour Paint cannot be stored as long as industrial paint, as its flour and water mix will eventually ferment, depending on storing conditions. Our tests at Artdec.ca showed that the paint was still in good condition after being stored for 6 months in a cool room and in a sealed container, but experiences may vary. Finally, it's important to know that in order to benefit from the Flour Paint's durability, an additional coat must be applied a year or two after the first application.
Where to use it?
Flour Paint can only be used on wood, may it be new or old, but it must be clean, dry, brushed and/or sanded, dusted and stripped of any previous paint or varnish which could prevent the new paint to penetrate its fibers. It cannot be used on drywall. Flour Paint is ideally suited to paint wooden exterior vertical surfaces, such as sidings, heavy timber, doors and windows, etc.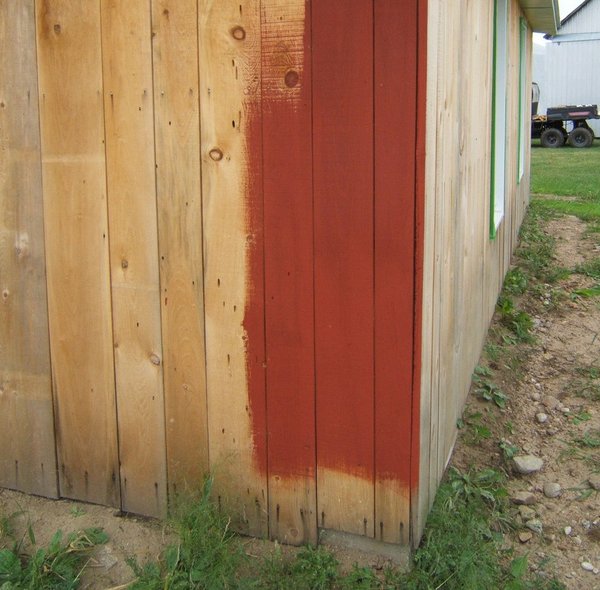 Photo credit: Claude Lacasse
However, this paint is not recommended for horizontal (flat) surfaces, such as a patio, since it will tend to wash out and wear out too rapidly. Flour Paint should also be avoided on certain types of woods which have a high concentration of tannin, such as oak, as the wood could blacken over time. Softwoods are a perfect match for Flour Paint. Flour Paint could also be used for wooden interior surfaces. In this case, there is no need to add Iron Sulfate to the recipe, which is used as an antifungal agent against humidity.
Recipe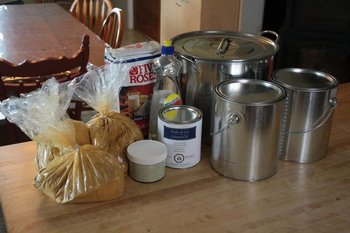 Photo credit: Vincent Charest
Sold on the idea? Ready? Here are the ingredients you'll need to make 10 liters (+/- 2.5 gal.) of Flour Paint, which will cover approximately 35 square meters (375 square feet) per coat. You can adjust the quantity according to your needs. Measurements are provided in both metric and US system for your convenience:
Although it's in French, the short video below provided by Mr. Claude Lacasse will give you a general idea about making and using your homemade Flour Paint. We're hoping the soundtrack will also entertain you as much as it did for us.
Preparation
In a large metal recipient, bring 7 liters (7 qt) of water to a boil.
At the same time, mix the flour in 1 liter of water (1 qt). Pour the mix in the boiling water and let cook for 15 minutes while stirring.
Add the coloring pigments as well as the Iron Sulfate, and keep stirring for 15 minutes.
Add the double boiled Linseed Oil, and stir for another 15 minutes.
Add the liquid soap, stir, remove from the heat source and let the mix cool down.
The paint is ready to use. If it seems too thick or viscous, dilute it with water until you get the desired viscosity.
Application
Don't apply while the surface is exposed directly to the sun, or on wood that is wet/humid. The temperature must be higher than 5°C (41°F).
For new wood, it is recommended to use a primer, made from the paint diluted with 15-25% water.
Use a paint brush to apply. Apply a first coat, which will dry under an hour.
Wait at least 24 hours to apply a final coat.
Tips
It is strongly recommended to apply an additional coat approximately 2 years after the first application. This is to make sure the paint will last about a decade.
You can use a mechanical mixer during the preparation to obtain a more uniform body.
Tools can simply be cleaned with water, but be prepared to scrub!!
The darker the pigment, the longer the paint will last.
After 8 to 10 years, clean the surface with soapy water and apply 2 new coats.
Even though it smells good and is non-toxic, our team at Artdec.ca would advise against recycling the leftover paint in cocktails or fancy colored pancakes...
How long it is possible to keep the ochre paint?
The ochre paint can be kept for one or two weeks provided it is not in contact with the air (close the container well). Mix well before using it again. Prepare the paint immediately before use.
Ready, Aim...Paint!
You now have all the information you need to make and use your homemade Flour Paint! Do you have an original idea that would put it to good use? What has been your experience so far with this paint? Don't hesitate to visit our technical forums to seek advice or to share your accomplishments!
If you're the curious type and would like to learn more about Flour Paint, look at this documentary to witness what can a 40 members team do with this paint in an entire village! The results are quite impressive!
---
Find Flour Paint products and information at
Color-Rare
.
---